Join theCAT and become a part of our IT organization!
Your first step towards becoming a CAT is to attend the Braindump Orientation. Sign up to receive notifications about the Braindump Orientation 2023 by logging into your PSU email account and clicking the button below.
Admission to theCAT only happens once a year in early Fall.
If you are interested in joining, please make sure that you attend the 2023 Braindump Orientation on Friday, October 6th, 2023 at 6pm in FAB 102.
Any PSU student can join the CAT, regardless of major, background, or prior experience. Come by to see what we're all about!
What is theCAT?
TheCAT is the Computer Action Team: a self-selected group of student volunteers from diverse majors and backgrounds who learn, grow, and innovate together on the systems in the Maseeh College of Engineering and Computer Science (MCECS).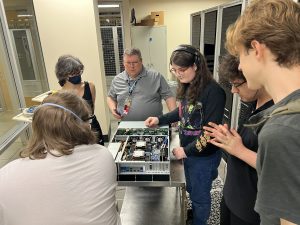 The CAT is managed by the Director of Computing for MCECS and consists of a team of volunteers, student workers, and a handful of full-time employees. With the guiding hand of experienced veterans in the IT industry, students are given license to make connections and shape the organization for years to come.
Full-Scale IT Support
TheCAT maintains user services in MCECS via front desk duty carried out by student volunteers in FAB 82-01. Volunteers gain experience in handling support tickets, managing labs, assisting faculty and staff, and engaging in various team projects.
Computing Infrastructure
TheCAT manages a centrally administered but distributed network of Linux and Windows systems that span many buildings on campus. Volunteers have the opportunity to assist in systems administration and configuration, software installation, user account management, and fast-paced collaborative problem solving.
Networking Infrastructure
TheCAT also runs the MCECS network at PSU, providing the connectivity to ensure all internal systems work together as well as a critical role in the external network connectivity of the University.
Administrative Infrastructure
Additionally, theCAT has a number of teams that facilitate internal growth and strengthen communication with all of MCECS and the greater PSU campus. They provide volunteers the opportunity to gain skills such as leadership, public speaking, technical writing, graphic design, and video editing.
What is the Braindump?
The Braindump is a 15-month volunteer program that combines weekly lecture, hands-on training, group collaboration, mandatory onsite frontline duty, and individual discovery within the context of our full-scale IT organization.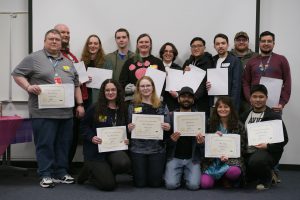 Volunteers gain a varied arsenal of technical, communication, and administrative skills that can fill up a resume. Some attain positions of leadership in various teams. All gain a diverse community of friends and professional connections that will last beyond PSU.
What's covered in the Braindump?
Our continually evolving collection of topics include:
CAT IT infrastructure
User services
Platform-specific user level and systems administration stuff for:
Hardware management and troubleshooting
App development (web/database)
DevOps
Other topics are available by joining some of the non-platform track teams:
Technical writing
Graphic design
Public speaking/communications
Project management
Video editing
What happens after the annual Orientation?
We ask that you fill out the CAT application and send it to us by the following Friday on Induction Day. You must have submitted your application and attended the induction session in order join the CAT.
Email us at topdog@cat.pdx.edu and ask us for an application if you don't have an active PSU Odin account.
If you have questions, please send e-mail to support@cat.pdx.edu or call 503-725-5420.
Come for the IT, stay for the network