Hot off the heels of a successful Braindump orientation, CATs from the current and previous Braindumps woke early the next morning to head to Corvallis for Beaver BarCamp 12. They were joining our OSL counterparts and the Open Source community for a day of unconferencing.
---

Beaver BarCamp is an informal conference where everyone is encouraged to participate and the sessions are not predetermined. It provides a collaborative environment that promotes the sharing of ideas and projects and is a fun, casual event filled with discussions, demos and interaction with attendees. One of the best aspects of BarCamp is that attendees both provide the sessions and choose the schedule, allowing for greater flexibility and freedom. http://beaverbarcamp.org/pages/about.html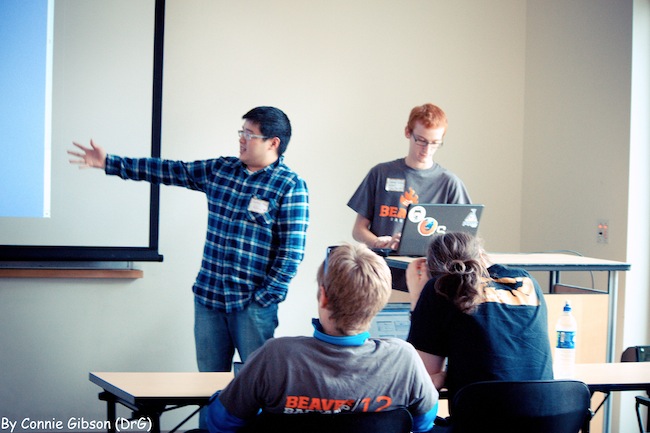 This is the second Beaver BarCamp attended by the current Braindump crew and the 12th since its inception. CATs made up a large portion of the attendees and presenters. There were many who were eager to give talks. It was a chance to talk about subjects they have immersed themselves in during their time in the CAT (in addition to expounding on personal projects). Uriae Walker, aka snoopy, gave a talk on Border Gateway Protocal (BGP) with fellow CAT Benjamin Hamlin, aka protoben. She felt that it was an empowering experience. "You learn more by teaching," she said.
Talks presented by CATS

Puppet Tools (Mcollective and Puppetboard) – nibalizer and blkperl
Intro to Bootstrap – enigma and BIGhong
Powershell – pfaffle
Border Gateway Protocal (BGP) – snoopy and protoben
How Your Brain Works – Racoon
Nuclear Fission – TheShazbot
Wireshark – nibalizer and stormcrow
SELinux – askore
Intro to GPG and Keysigning – nibalizer
Grad School: Why? Why Not? Why Bother? – stormcrow
Attendees also made valuable connections with other people in the field. Snoopy talked with other attendees about the internship and work experiences they've had with different companies. Craig Meinschein, aka pfaffle, after giving his talk on Powershell, was approached by an industry leader for his business card. "It's definitely a good networking opportunity," he says.
Perhaps the most rewarding part of the BarCamp experience is that it brings people closer together. We would like to thank the OSL and the sponsors for hosting and making this event a huge success. We hope to see you at the next Beaver BarCamp in April.